Another week is passing and Picassa/blogger is still not working for me. It's that problem with pictures disappearing after being published. Now I am using Photobucket, don't know if this is a good choice. At least, I can post the photos in my blog.
These images were taken couple weeks ago. I was pretty excited with these two projects. First one is this
doily
style cardi from the latest summer Keitodama. I was having fun knitting the center doily and seeing the emerging pattern because the photo of the design doesn't show the back at all. ( Btw, just showing the cover of the magazine, cute bolero, no? It's crochet though.)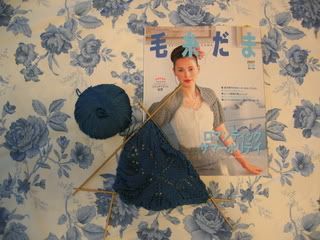 This second project is from World Knitting Spring /Summer 2007. I am just knitting the outer bolero. The set would be neat but perhaps too thick for summer. I am using a smaller needle size than required by the pattern. The cables and the eyelet rows were making this pattern too stretchy. It worked out for the width but smart as I could be, I forget about the length issue. I am trying to solve this problem by adding rows between the lateral increases.
And last photo, something sweet to make up for the previously bitterly projects! :D
Self bought gifts for mother's day! I found a new LYS a few weeks ago and couldn't just walk out empty hands. They are both Japanese yarns. The light terracotta ones are blend of linen and cotton and the light blue is 100% cotton, a very thin yarn.
I've been tagged for a meme by
craftlover
and
Little Sesame Knits
for this 8 random things about me. Thank you both for thinking about me!
I have a special affection for cotton yarn. When I go into a yarn shop I browse for the cotton section first. It could be the spring colors that attract me and the lacy patterns suitable for this material.


I still prefer straight needles even though I've been trying hard to use circulars. I even bought nicer ones to encourage the switch. Though, I still prefer my old straight needles.


Nowadays when I go out, my priority is my knitting bag. I spend more time gathering my knitting gadges than selecting my outfit or applying make-up. It doesn't matter that I often don't even get to knit more than a couple of rows.


My native language is Brazilian Portuguese which I have not fully used for more than 20 years.


I don't drink coffee even though I grew up in Brazil.


My great grandmother was a Manchurian. (Chinese minority ethnic).


I can speak fluent Chinese (Mandarin) but I can't read or write.


I am a fruit lover. I specially like fruits that have some sour taste. Bananas are exception though.
Thank you all for the well wishes and the nice words on Jasmine. I am feeling much better this week and ready to add more knitting into life.
I had couple of questions left in my previous posts that I will answer here because I don't have the readers' email.
1. a reader from Hokkaido requesting LYS address:
I only have Puppy store address -
Sapporo - Puppy Sapporo Komiyamaya
Nishi 2, Minami 3 Chuoku. Tel: 011 221 0565
There were other yarn shops in the same neighborhood but I don't have the address. You could ask the saleslady at the Puppy shop for directions to the other shops ( that's how I found the other ones)
2. Reader Claire requested info about White Orchid
The pattern is from World Knitting Spring/Summer 2007. It's a Japanese knitting book and instructions are based in charts. Some translation for the Japanese instructions can be found at ABCs of knitting. The book can be purchased or ordered from Kinokuniya ( scrow down this page for a list of stores in US), or through amazon.com.jp