I finished White Orchid for about a month. I was planning to have the FO shot at an orchid nursery; however time went by so quickly and now it's not a good time to buy new plants for home since I will be away in California visiting my family by the end of this month. Then our weather here was either too hot, really impossible to wear anything with sleeves ( yes, even for a quick shot) or very wet. It's has been raining heavily all day long with some thunderstorms. And that will be the forecast until Tuesday. I tried indoor pictures and that's the best one I could choose.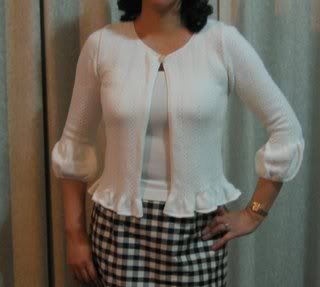 Tried again yesterday morning before DH went to work when we had a a little break from the heavy rain. Perhaps, I turned the flash mode on by accident even though I had in mind to turn it off.
It was a quick knit despite the yarn being very thin. I wished that the fitting was a little more on the loosen side. Other than that I love the design and the little ruffles that I added on the bottom. Though, I should had added more length to the ruffles. The balloons turned out a bit smaller than I originally predicted but I am satisfied with it's size now. It's just that after blocking, the sleeves seemed to have deflated. I tried to use steam ironing but without much improvement.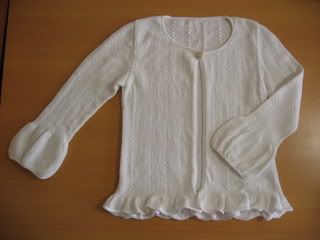 Pattern: White Orchid - World knitting Spring/Summer 2007
Yarn: Dolce Amore from Filatura Di Crosa - used about 6 1/2 balls
Needles :Japanese size 3 ( 3mm)